Dear Sons,
Your father and I watched all six seasons of Parks and Rec over the past three months, and while Leslie Knope makes the show, Ron Swanson is its backbone.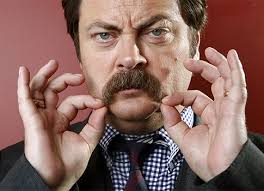 And boys? I like Ron. I like him, the same way I like your father because they're not afraid to be men who "wear moustaches, who hammer nails, who smell wood and capture a household bug then set it free" (as Ron, or actor Nick Offerman describes on How to Grow a Moustache.) "Who tolerate crying babies, move out of their parents' house, gain the trust of a dog, sweat, send a regular, hand-written letter, and eat a raw onion."
"It's the single manliest journey of your life," says Ron about growing a moustache, but I'm here to tell you sons that the manliest journey of your life does not consist of growing hairs on your upper lip, but rather, of following in the footsteps of a Savior who climbed the hill of Calvary with a cross on his back…
(The rest of this post can be read over HERE at The MOB Society; join me? Love you friends…)
***
The feature sponsor for this post is Oh Lollipop Designs–professional hand-sewn quality products like women's scarves, children's fur boots, toddlers' swing coats and little man ties. Check it out HERE.